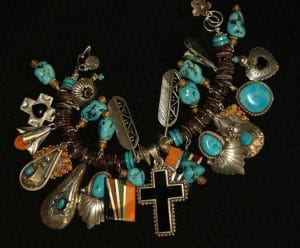 I am a writer, a third generation artist, and I have admired and been inspired by Native American art and culture from childhood days. I only discovered jewelry twenty years ago. This was a very happy discovery and I have been enjoying it ever since! Please join me! A taste for the unusual may be somewhat rare but so rewarding!
I have shown my work in the Mingei International Folk Art Museum in San Diego, among others. At present you'll find me at the SUMMER ROSE LADY website and at the lovely Prentice Gallery in Mendocino, California.
If you like my work you may also be interested in my new novel, THE LAST ENEMY, recently published and available through AMAZON. It serves, I hope, to continue to illustrate my passion for the American Southwest, its history and early hardships and the amazing resilience and strength of its people. Please check my blog, I hope to have more information for you soon.