Social Media mentions: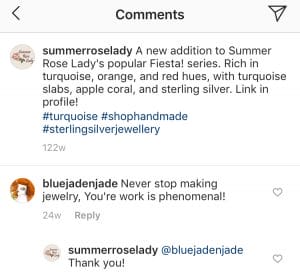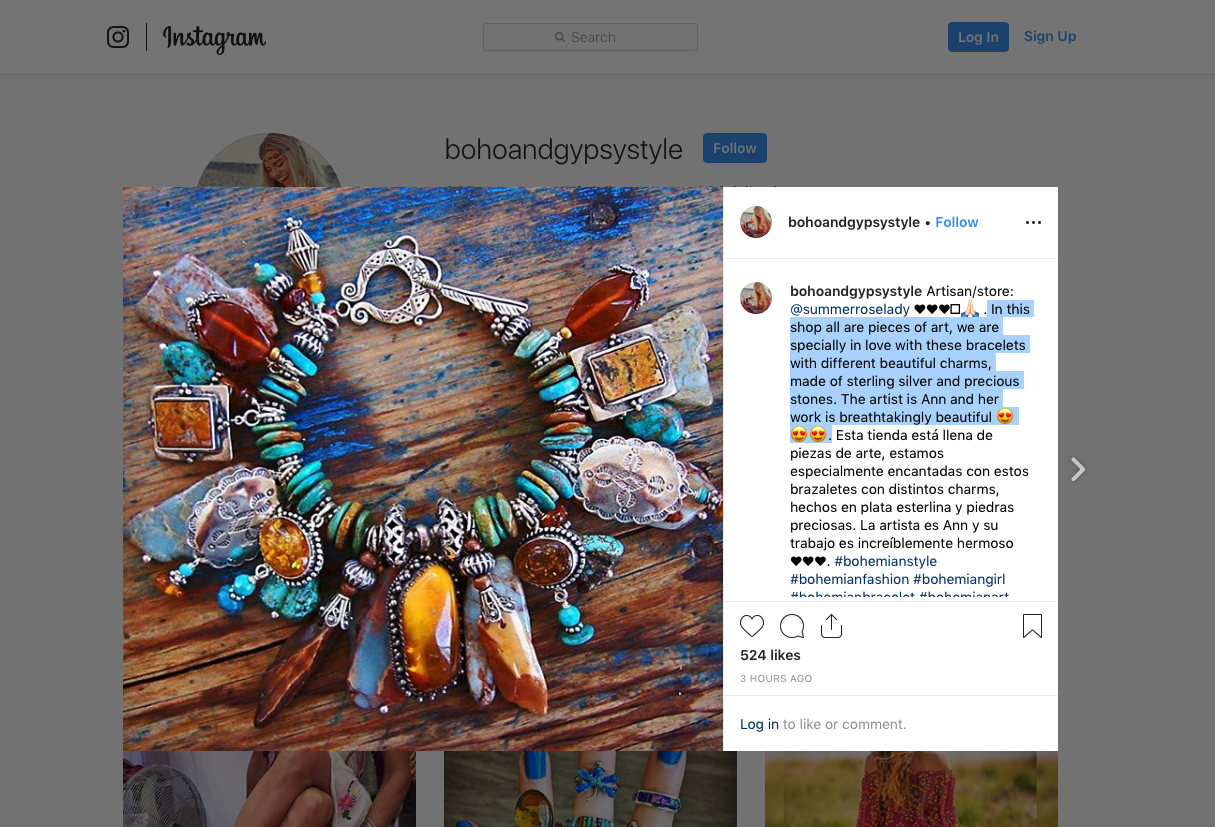 Follow @summerroselady on instagram to see the latest posts!
Read what customers are saying:
I wear your artistic talents around my neck and I know each time I wear one I will get a flood of compliments and questions about where I bought it. Each time I give out your name and contact information with my glowing recommendations.
-Ellen
Thank you so much for the extender which makes your bracelet a stunning necklace.
-Dorothy
Absolutely love my bracelet and earrings. Received them yesterday. Bracelet is a bit on the larger side for fit, which I knew, but it's okay. It is just beautiful! I am so pleased!
-Barbara
Hi Ann,

Received my bracelet today. It is just gorgeous!

Fits perfectly.

Can't wait to wear it.
Marlene
I loved the bracelet I ordered! (B477)

Angela
I saw your ad in Cowboys and Indians magazine– Your work is glorious.

Aris
All your bracelets are so lovely it was difficult to make a final decision– The beautiful bracelet arrived today– It is truly a gorgeous work of art.

Dixie
I received the Fiesta bracelet and it is absolutely stunning.
Kim
I picked up my bracelet today and it is absolutely beautiful!!! I can't wait to show it off!!!
Angie
Oh Ann, I am wearing both (bracelets) at the same time to show off to my husband. He and I both agree they are absolutely gorgeous and even more beautiful than the pictures…
Becky
I received the bracelet this afternoon and it is beautiful beyond what I even imagined. The sizing is perfect too Thank you so much. I feel so blessed to own and wear this piece of art.
RJ
Received my "Garden Afternoon" bracelet — It is more beautiful than the pictures. I love it !! I proudly showed it off at a meeting last night.
D
It's beautiful and the size is perfect. Thanks so much for your personal attention. I will enjoy having a one-of-a kind piece— I'm sure it will be admired all the time, and I will happily pass on your name to everyone who asks where I got it.
Peggy
The extension arrived, attached to my bracelet. VOILA! Works and looks beautiful. A statement piece, for sure!
Thank-you for taking care of this so quickly. Now, I can enjoy my extraordinary necklace.
Dorothy
I want to thank you so very much for this beautiful bracelet I purchased from you. It is beyond my expectations– this is well made and I find each piece fascinating. Your website is easy to shop with, as well! Thanks!
Dona
She loves it!
M.
I received my bracelet today and its gorgeous!
B.
Received my beautiful bracelet. It is more special than I could ever have seen in the pictures. Thank you!!!
Doris
Simply elegant new item for January. Beautiful stuff.
J.M.