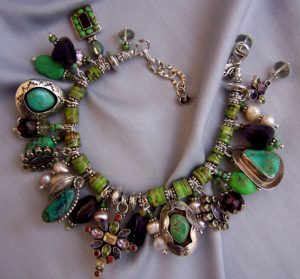 So pretty! Jewels with pearls and turquoise, a beautiful combination! The focal charm of this bracelet is a design of multicolored faceted little jewels, mostly citrine and amethyst. There are three other jewel charms by Nicky Butler and four larger turquoise and sterling charms, two with nice sterling stamping designs, one with leaf embellishment and one with an elegant, simple sterling setting. Three of these charms are signed. Not to forget a pretty little square charm with tiny turquoise cabs and a dark purple/black center. The nugget charms are matt Hubei turquoise, faceted freeform amethyst and natural baroque pearls. The band of this bracelet is green turquoise with four sterling beads and a sterling chain closure with a lobster clasp, adjustable from about 8″to larger. This is an elegant bracelet, rich in its colors and charms and just waiting for the special buyer!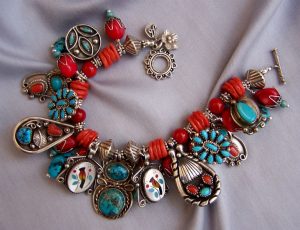 This bracelet features two vintage Cardinal birds beautifully inlaid into Mother of Pearl backgrounds by amazing Zuni Indian craftsmen decades ago. These pretty charms flank a fine focal charm with two large natural turquoise stones set in attractive sterling embellishment. In all there are twelve Navajo vintage charms in addition to the focal charm, and all but the two Zuni cluster charms are old and vintage with still a little patina left on them. These are old timers and the bit of patina just attests to their venerable age! The additional nugget charms are natural Kingman mine turquoise and bright red Mediterranean coral with sterling bead caps. The band of this bracelet is natural coral with sterling beads and a pretty sterling toggle clasp. It has a wearable length of about 7.75″ to 8″.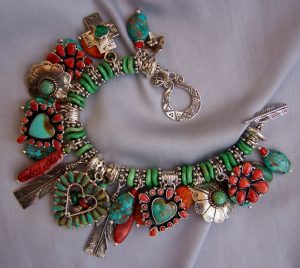 Three hearts! This bracelet has a fine Zuni sterling needlepoint turquoise focal heart, set with a variety of little green and blue stones. It is signed "PB" on the back and I have added a cluster of beads at the back just for interest. Two long sterling feathers flank the focal heart in addition to two red spiny oyster charms. The other two hearts are elegant sterling and turquoise hearts surrounded with red coral, possibly jasper, and they are signed by Dan Dodson. There are four vintage charms, a little cross with a malachite heart, signed, two handsome concho charms with nicely stamped sterling silver designs and turquoise centers, and a small malachite charm with sterling leaf design. The nugget charms are natural turquoise and coral and the band of this bracelet is green turquoise with sterling beads and a pretty sterling toggle clasp designed on both sides. This bracelet has a wearable length of about 8.5″, but can be resized. This s a bold bracelet and would adapt easily to a necklace, just ask.